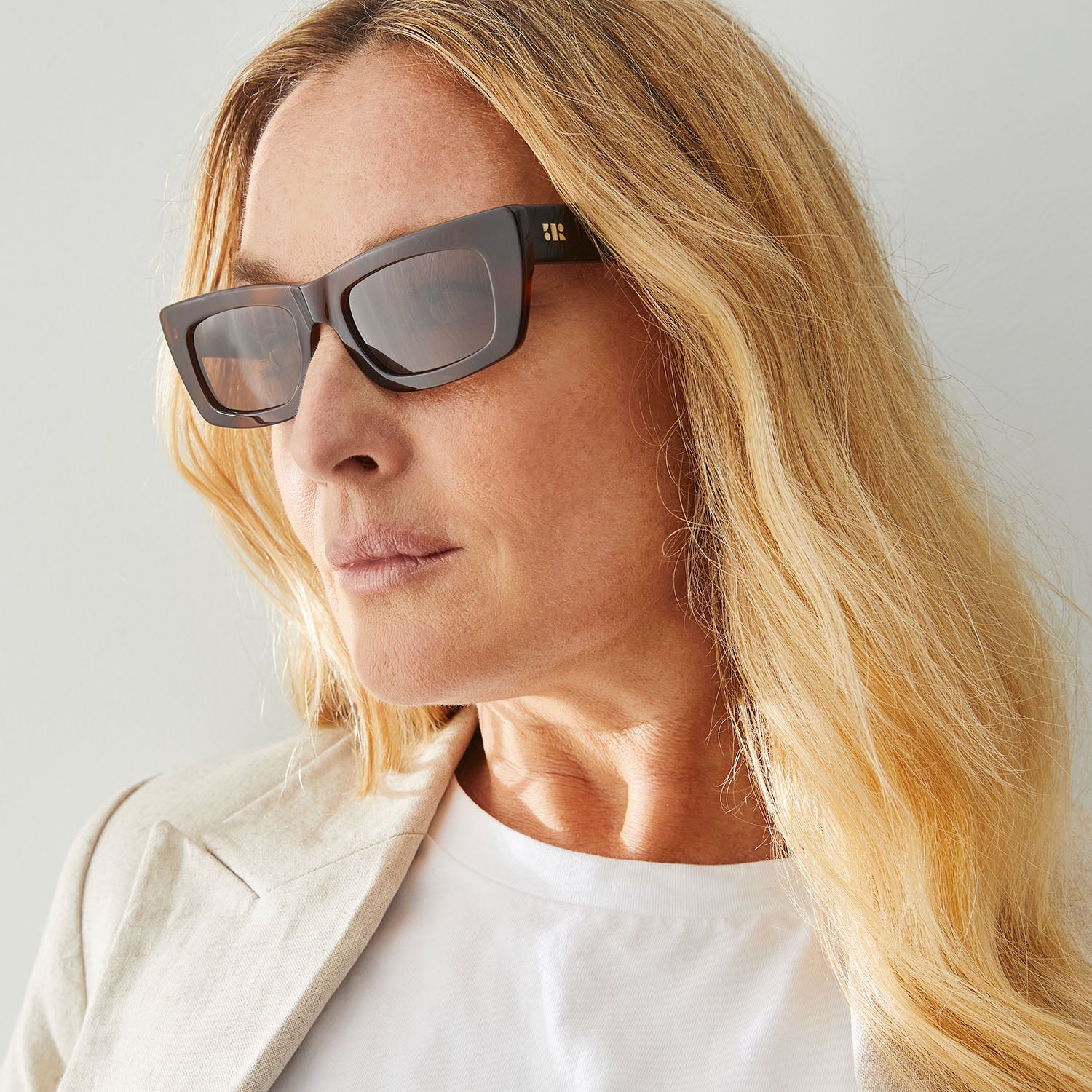 Sunglasses That Care for Your Eye Health
The great outdoors has so much to see!
Specifications
First Class Handmade Craftsmanship
Italian Mazzucchelli Acetate
Obe Flexible Hinges
Rectangular Cat-Eye Shape
Average/Wide Fit
Measurements in mm 52-19-140
Scratch Resistant Lenses
Anti-reflective Coating Lenses
Designed & Assembled In Montreal
All measurements are in mm (millimeters)
A pair of flattering glasses makes all the difference.
Our AGATHE frames show off a wide rectangular silhouette with OBE flexible hinges for everyday comfort. Our eyeglass frames for women complement everyone, and can easily match different outfits, creating new styles. The expert construction of these glasses boast first class handmade craftsmanship, composed of the finest Italian Mazzucchelli acetate, designed and assembled in Montreal.

These stylish frames promote sheer confidence with performance that makes them long-lasting to keep up with your lifestyle. The scratch resistant and anti-reflective coating lenses provide crisp optic clarity, even when you might have been a little rough with the handling. The flexible, lightweight frames provide relaxed styling that feels so comfortable, you might forget you are wearing glasses altogether! Keep your look uniquely your own with frame colors available in black, brown, pink tortoise, and tortoise. We offer a choice of options for this style, including readers, sun readers, blue light readers, transition readers, blue light clear and non-prescription clear lenses
Sunglasses That Care for Your Eye Health

The great outdoors has so much to see! Don't squint through the day and miss the beauty around you. Hiking, dining alfresco, or hitting up the dog park, you should see the world around you in crystal clarity. Our anti-glare polarized lenses offer 100% UV protection (also available in non polarized lenses). These fashionable sunglasses will protect your eyes and the skin around them from damaging UV rays. That's a win-win in our book! Try out the look with lenses available in colors of smoke, brown, and green.

Included with your purchase
Valuable add-ons are included with every purchase. Each product comes with an upscale eyeglass case, a felt pouch, a micro-fiber cleaning cloth and a reusable tote bag.