Wave goodbye to ordinary
Our unisex sunglasses are specifically designed for UV eye protection.
Specifications
First Class Handmade Craftsmanship
Italian Mazzucchelli Acetate
Obe Flexible Hinges
Round Shape
Average Fit
Scratch Resistant Lenses
Anti-reflective Coating Lenses
Designed & Assembled In Montreal
All measurements are in mm (millimeters)
Command the room with EDEN.
The bold curves on these thick, retro-style Mazzucchelli Acetate frames will have all eyes on you.
Command the room with EDEN. On the prowl for something that is bold and quirky?
Then you will love these vintage-fresh fashion glasses with a round full-rim frame in very lightweight acetate. The bold curves on these thick, retro-style Mazzucchelli acetate frames will ensure that all eyes are on you.
Iconic eyewear always tosses in a dash of the past along with modern sensibilities. This is because certain trends are just timeless, and round, thick-framed glasses are simply ageless. These edgy frames impart some intellectual charm to your wardrobe, while ensuring you stand out from the crowd. Designed and assembled in Montreal, these unisex glasses are a reliable charmer through and through. You can count on the high-quality handcraftsmanship and top-of-the-line features. The super flexible and unbreakable OBE hinges ensure a comfortable wearing experience, with lenses touting scratch resistant and anti reflective coating technology for clarity of vision.  All lens options come in a sophisticated color palette, with options that include Brown, Black, Cognac, Clear, and Honey. 
Best UV Protection Sunglasses
Wave goodbye to ordinary with our unisex sunglasses that are specifically designed for UV eye protection. These shades are engineered to filter and block out harmful UV rays with 100% coverage, along with polarized lenses for anti-reflective use. Whether it's snowing or bright and sunny outside, theses high end sunglasses reduce glare brought on by reflection or horizontal light to help prevent squinting, which will help keep your vision clear when on the road. Our Brown frames come in a Green lens, the Black come in a Smoke lens, Cognac in a Green lens, Clear in a Blue Mirror, and Honey in a Brown lens. Not only do they function effectively for any outdoor activity, you'll look and feel great all the while. You might even forget you are wearing sunglasses at all they are so comfortable and stylish!
Everything That's Included
Valuable add-ons are included with every purchase. Each product comes with an upscale eyeglass case, a felt pouch, a micro-fiber cleaning cloth and a reusable tote bag.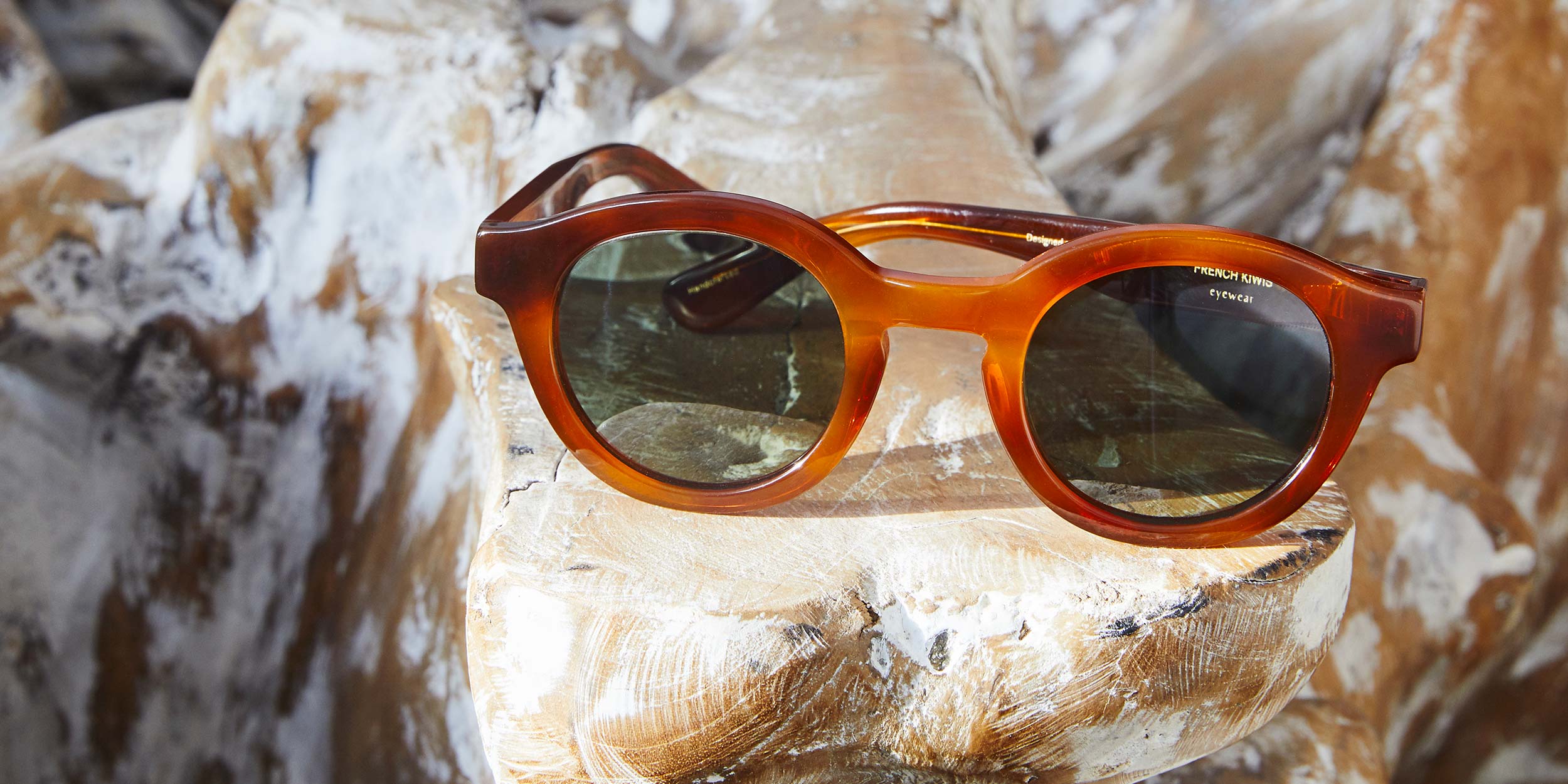 Merci Chantal d'avoir prit le temps de nous ecrire un commentaire. Nous sommes tellement heureux de voir que vous adorez vos KIWIS! Au plaisir!
enfin des lunettes avec un super LOOK