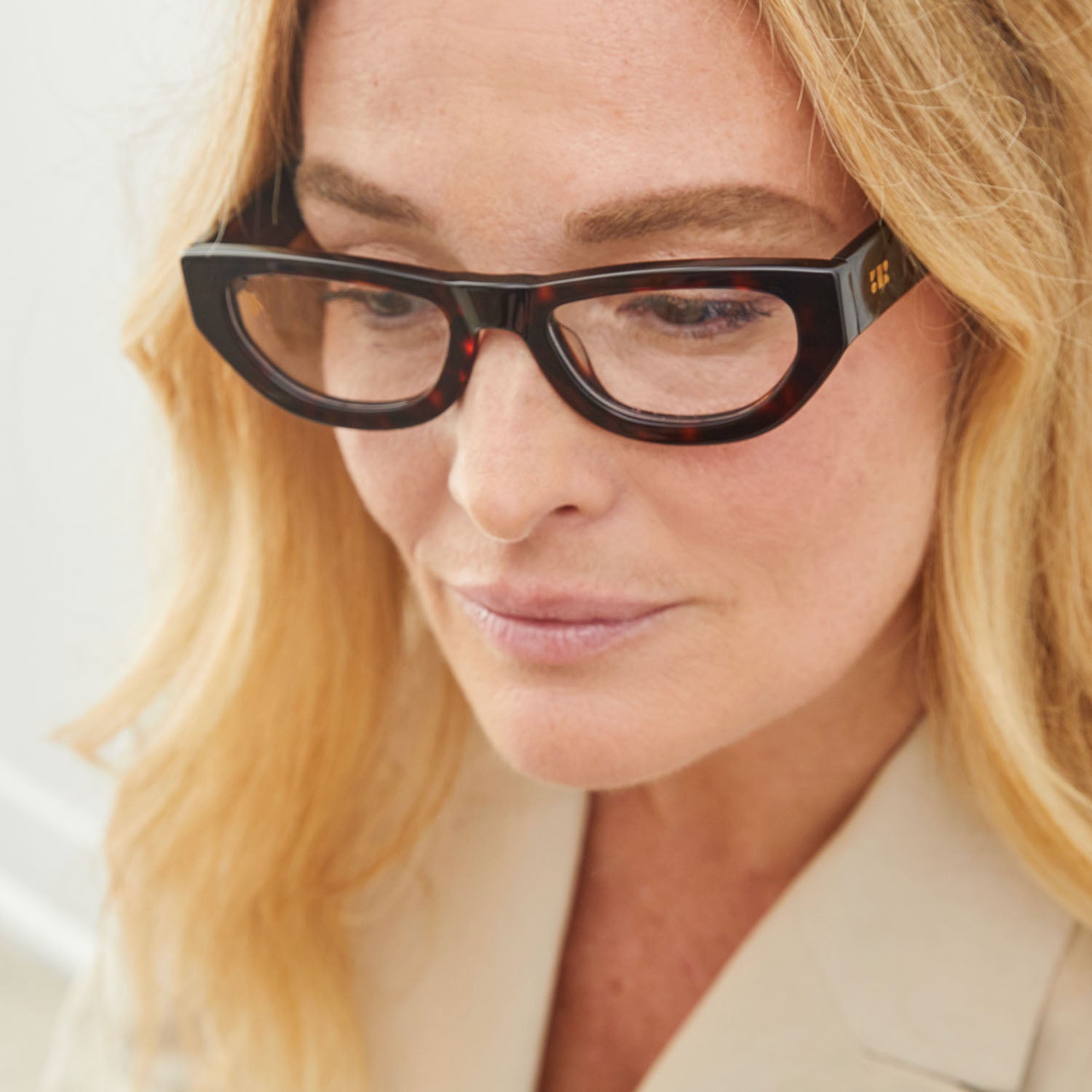 The ESTELLE is eyewear to remember.
It features a thick oval frame handmade from fine Italian Mazzucchelli acetate, designed and assembled in Montreal.
Specifications
First Class Handmade Craftsmanship
Italian Mazzucchelli Acetate
Obe Flexible Hinges
Rectangular/Oval Shape
Average Fit
Scratch Resistant Lenses
Anti-reflective Coating Lenses
Designed & Assembled In Montreal
All measurements are in mm (millimeters)
The ESTELLE is eyewear to remember that features a thick oval frame handmade from fine Italian Mazzucchelli acetate, designed and assembled in Montreal.
Acetate is a very durable, flexible, and strong material that is also resistant to pressure and can bend further than standard plastic before breaking. Met with the OBE flexible hinges and you have a pair of glasses that provide ultimate comfort. The chunky silhouette shows off a vintage-inspired shape, derived from first class handmade craftsmanship that underscores the frame's incredible integrity of quality. You will see the world clearly with scratch resistant and anti-reflective coated lenses that keep pace with your active lifestyle. These incredible eye frames for women are available in readers, sun readers, blue light readers, transition readers,  blue light clear and non-prescription clear lenses. Check out your style with frame colors that come in black, apricot, clear tan, and dark tortoise.
Stop "Digital Eye Strain" In Its Tracks With Blue Light Glasses
Tech has inevitably become a part of our daily lives, whether for work, communication, or play. Unfortunately, these devices emit what is known as "blue light" which is a term used to describe damaging, high-energy light rays that can interfere with our natural sleep/wake cycle and bring about headache and eye strain. Because technology plays an integral role of our lives, and for most of us cannot be cut out or cut back, we need a solution. That's where blue light glasses come into play! Our blue light frames offer protection from HEV blue light rays so that you can scroll, surf, and chat with peace of mind, without fatiguing your eyes or disrupting your circadian rhythm. Our blue light readers have diopters that come in +1.00 +1.50 +2.00 +2.50 +3.00 and +3.50 powers.
Included with your purchase
Valuable add-ons are included with every purchase. Each product comes with an upscale eyeglass case, a felt pouch, a micro-fiber cleaning cloth and a reusable tote bag.