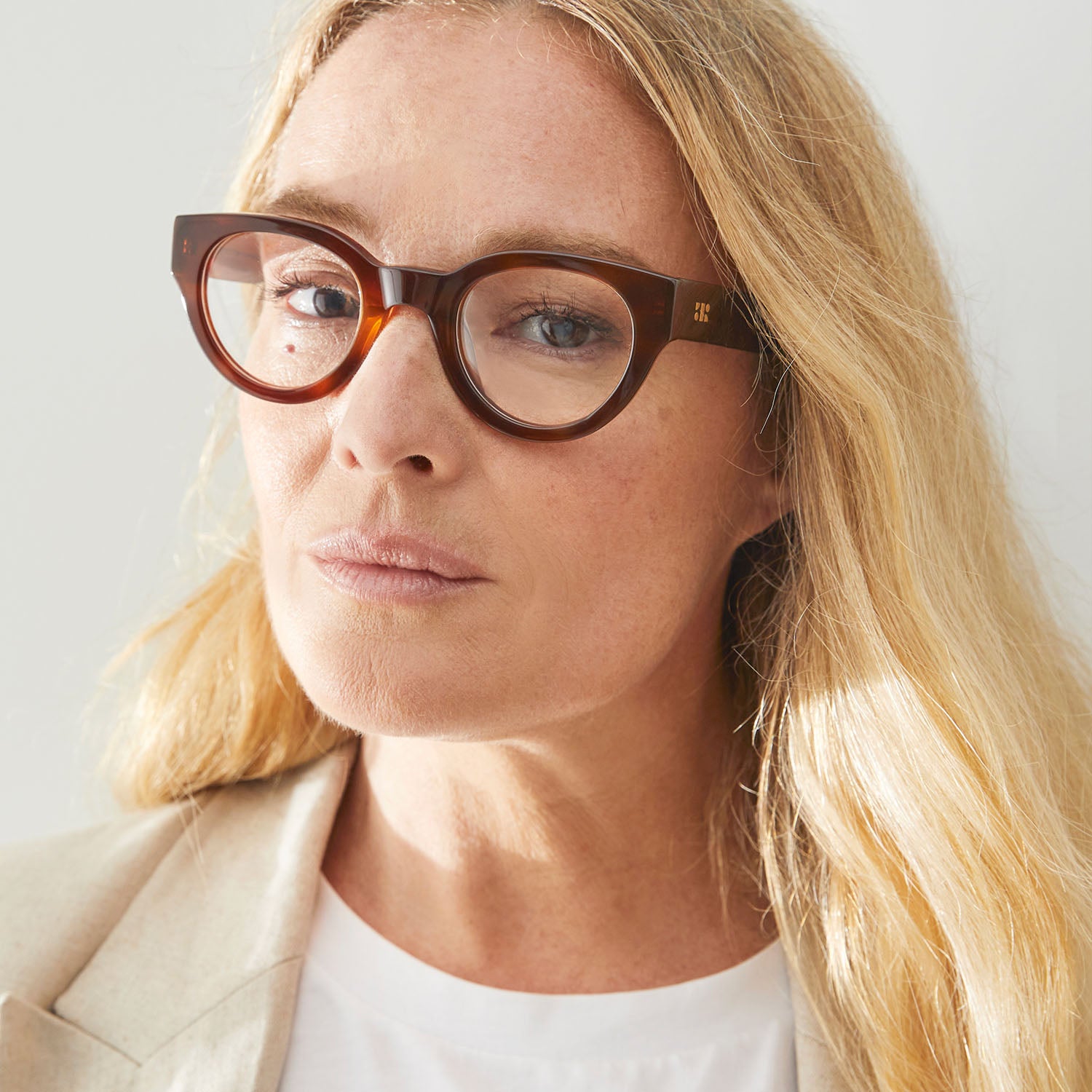 A classic that never goes out of style.
Our FLORENCE glasses for women are simply divine in a round cat-eye silhouette.
Specifications
First Class Handmade Craftsmanship
Italian Mazzucchelli Acetate
Obe Flexible Hinges
Round Cat Eye Shape
Average Fit
Scratch Resistant Lenses
Anti-reflective Coating Lenses
Designed & Assembled In Montreal
All measurements are in mm (millimeters)
A classic that never goes out of style.
Our FLORENCE glasses for women are simply divine in a round cat eye silhouette. Funky, fresh, and right on trend, these women's eyeglasses exude a bold look without forcing you too far out of your comfort zone. The light angular design of this pair and the fine Italian Mazzucchelli acetate in a handcrafted construction work well for everyday, special occasions, and professional atmospheres. These vintage-meets-modern eye glasses for women are a great addition to your wardrobe as you can pair them with anything.
This acetate frame showcases an emboldened cat eye silhouette, OBE flexible hinges for comfort, and a characteristically curved nose bridge. Designed and assembled in Montreal, this pair is mean to see and be seen, with scratch resistant and anti-reflective coated lenses. We offer a choice of options for this style, including readers, sun readers, blue light readers, transition readers,  blue light clear and non-prescription clear lenses. Choose your unique personality with frames that come in Black, Brown, Rosé, and Clear Tan.
Women's Quality Reading Glasses with High Fashion Style
Presbyopia is an age-related vision condition that causes the eye's lens to lose flexibility. Because presbyopic eyes focus more easily at a distance, as we age, we find ourselves needing assistance when it comes to seeing words and objects close up. So while with age comes wisdom, it also tends to come with the need for reading glasses. Many women slip into this category with cheap drug store readers they hide deep within their purses, only to drag out when necessary. Don't let yourself fall into this pattern. It is only natural to want to look and feel our best at any age. Our round cat eye glasses for women bring bold lines and an array of striking colors to the table so that you are able see all the possibilities for your (stylish) future. Our readers are scratch resistant and anti-reflective, with optical grade lenses so that you are able to focus on fine print and details, such as when writing, reading, working with fine needlework, or doing any other close up activity. Reading glasses can be taken anywhere, and our readers for women are ready to go in diopters of +1.00 +1.50 +2.00 +2.50 +3.00 and +3.50 powers.
Included with your purchase
Valuable add-ons are included with every purchase. Each product comes with an upscale eyeglass case, a felt pouch, a micro-fiber cleaning cloth and a reusable tote bag.