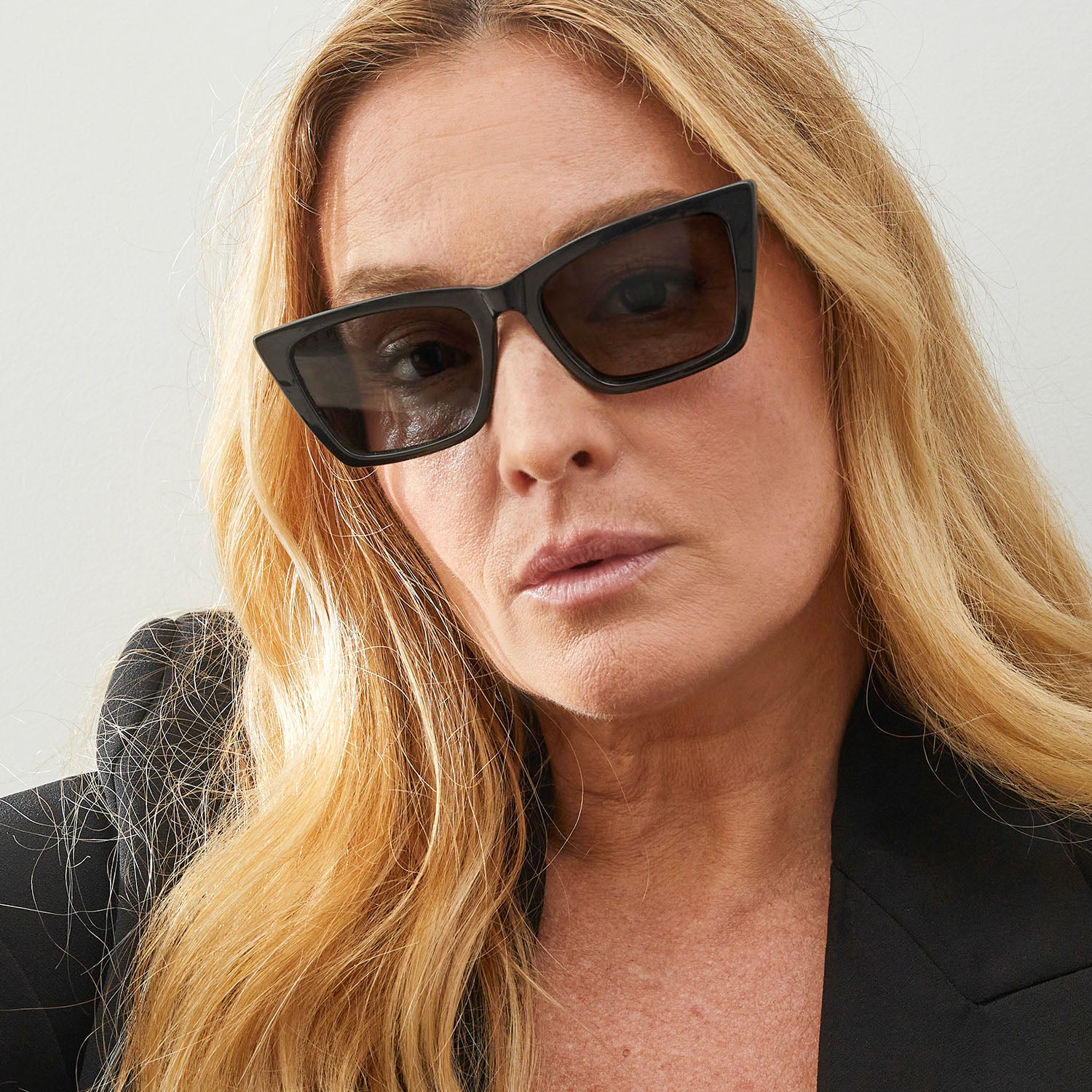 Let your style be your guide!
Our ZOÉ women's eyeglasses are the pinnacle of vintage-contemporary fashion in a wide, rectangular cat eye silhouette.
Specifications
First Class Handmade Craftsmanship
Italian Mazzucchelli Acetate
Obe Flexible Hinges
Rectangular Cat-Eye Shape
Average/Wide Fit
Scratch Resistant Lenses
Anti-reflective Coating Lenses
Designed & Assembled In Montreal
All measurements are in mm (millimeters)
Let your style be your guide!
Our ZOÉ women's eyeglasses are the pinnacle of vintage-contemporary fashion in a wide, rectangular cat eye silhouette. Aesthetically appealing, this pair of women's eyeglasses proudly exhibit distinct design details that elevates the look of any ensemble in which you pair it. A triumph of a synchronous design of both bold and dynamic, modern and vintage, our eyewear sets new standards for how you look and feel in your eyeglasses.
Our frames are made of premium Italian Mazzucchelli acetate that is durable and flexible, making them the perfect companion to your active lifestyle, with OBE flexible hinges that only enhance the comfort you will experience when wearing them. Designed and assembled in Montreal, the first class handmade craftsmanship of these women's frames show off an artisan beauty. Your optical clarity is always a priority with lenses featuring scratch resistant and anti-reflective coating. Frame colors include options of Black, Pink Tortoise, Dark Tortoise, Grey Tortoise. We offer a choice of options for this style, including readers, sun readers, blue light readers, transition readers,  blue light clear and non-prescription clear lenses.
Sunglasses for Fashionable fun in the Sun
Cat-eye sunglasses are a playful eyewear style that perfectly demonstrates the modern minimalist style of today. These on-trend sunglasses for women bring a dose glamour and pizzazz to your outdoor look. These frames come in both 100% UV protection polarized lenses and non polarized lenses. Our UV-blocking technology stops the sun's harmful ultraviolet rays from reaching your eyes and also protects the sensitive skin around your eyes. At the same time, our polarized lenses remove glare to eliminate extraneous squinting so you can see more clearly. Polarized lenses are especially useful for water and snow activities, as well as when driving. Made of the finest acetate material, these women's shades will match your vibrant charisma and delivery ultimate style. Chose from Black frames with a Smoke lens, Pink Tortoise frames with a Brown lens, Dark Tortoise frames with a Brown lens, and Grey Tortoise frames with a Smoke lens.
Included with your purchase
Valuable add-ons are included with every purchase. Each product comes with an upscale eyeglass case, a felt pouch, a micro-fiber cleaning cloth and a reusable tote bag.
Obsessed with my new sunglasses from French Kiwis, just as I was (and still am!!) with my first ones 🖤 They also have the most impeccable customer service 👏
Laeticia, Thank you so much for taking the time to write a review and for the amazing compliment! We are truly humbled by it. We're so happy to hear that you love your KIWIS and that you enjoyed your experience. Hope to hear from you soon!